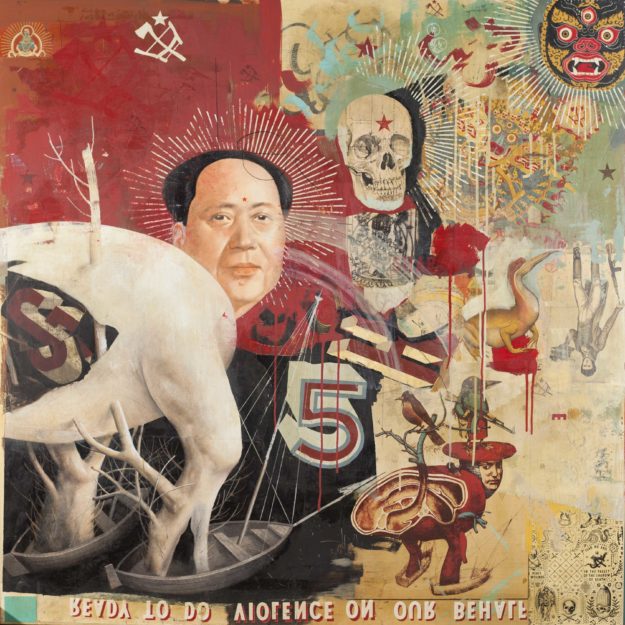 Past exhibition
10 November — 11 December 2016
Ravi Zupa
Ravi Zupa : Violence on Our Behalf
"People sleep peaceably in their beds at night only because rough men stand ready to do violence on their behalf"In this pivotal transitional moment, the veil of politics is thinning. Colorado-based mixed media artist, Ravi Zupa, has created this new series as an exploration of power, powerful people, and the collective mess that we are in. The Matthew Namour Gallery is proud to exhibit Ravi Zupa's first solo show in Canada, playing host & refuge from the current political climate.
ARTIST STATEMENT
"Like most Americans, I've been watching this election with a great deal of interest and emotional investment. This does seem to be a dramatic turning point in the way that politics function, not only in the United States but everywhere on the planet, and it also seems that technology has everything to do with it. I'm not much of a techno enthusiast but I do think that to a large degree this turning point is aiming us in a much better direction. It is becoming increasingly difficult for politicians to maintain a public persona in the front and a hidden agenda in the back. This is why Donald Trump is one of the best things to happen to American politics. Because he is more or less honest about all of his philosophies, he acts as a mirror not only to the Republican Party but also to the nation as a whole; he shows us what a total mess we are as a collective. My show opens two days after the US election and my deep hope is that Donald Trump will not be our president. If he is, the planet will be in the profoundest existential danger. However, if he is not elected the lasting mark of his campaign will be a good one, the exposure of so many thought disorders in our national consciousness.
The title, "Violence On Our Behalf" is a slightly altered portion of a George Orwell quote, "People sleep peaceably in their beds at night only because rough men stand ready to do violence on their behalf". This is a body of work created during this transitional time and the work reflects it. It mainly deals with power and powerful people."
– Ravi Zupa
The exhibition will run until December 11th, 2016.
Zupa is a multidisciplinary artist who creates sculptures and works on paper using traditional and recycled materials. Self-taught and ever inventive, he borrows his characters & themes from popular culture to expose, without irony or judgment, the denial of human needs.